Dock Construction Orlando FL
Welcome to Orlando Dock Builders' Dock Construction Service. We are your premier choice for crafting custom, high-quality boat docks that elevate your waterfront experience. With our unwavering commitment to excellence and years of expertise, we have established ourselves as the leading dock construction specialists in Orlando, Florida, and the surrounding areas.
Our dock construction service is built on a foundation of precision, artistry, and attention to detail. We understand that your waterfront property is more than just real estate—it's where memories are made, where you connect with nature, and where you embark on aquatic adventures. That's why we take great pride in designing and building docks that seamlessly merge functionality and aesthetics.
Whether you envision a spacious platform for lounging, a sturdy berth for your watercraft, or an architectural masterpiece that enhances your property's charm, Orlando Dock Builders has the expertise to turn your vision into reality. We offer a wide range of customization options, including materials, design elements, and added features, ensuring that your dock reflects your unique style and purpose.
Our team of skilled engineers, craftsmen, and technicians brings years of experience to every project. From initial design consultations to the final touches, we collaborate closely with you to ensure that every detail aligns with your expectations. Whether your project is small or large, our dedication to quality remains unwavering.
At Orlando Dock Builders, we believe that your waterfront should be a seamless blend of form and function. Our dock construction service is not just about building structures; it's about crafting the backdrop for your aquatic adventures and creating spaces where you can relax, entertain, and savor the beauty of waterfront living.
Explore our Dock Construction Service to learn more about our capabilities, materials, and design options. Join us in bringing your dream dock to life, enhancing your waterfront property, and making every moment by the water truly extraordinary. Welcome to a world of impeccable craftsmanship and timeless elegance with Orlando Dock Builders.
Our Dock Construction Work
Exploring Common Boat Dock Types in Orlando, Florida
Orlando, Florida, with its numerous lakes, rivers, and waterfront properties, offers a diverse range of boat dock types to suit various needs and environmental conditions. Let's delve into some of the best and most commonly used boat dock types in this vibrant region.
Why Choose Us For Dock Construction?
Customers should choose Orlando Dock Builders for professional dock construction services for several compelling reasons. First and foremost, we bring years of expertise and a stellar reputation to every project. Our team of skilled engineers and craftsmen is dedicated to delivering exceptional quality and craftsmanship, ensuring that your dock not only meets but exceeds your expectations.
We prioritize customization, offering a wide range of materials, designs, and features to tailor your dock to your unique needs and preferences. Whether you require a sturdy fixed dock, an adaptable floating dock, or a luxurious boathouse with a dock, we have the expertise to make your vision a reality.
Furthermore, we understand the importance of compliance and permits, navigating local regulations seamlessly to ensure a hassle-free construction process. Our commitment to sustainability ensures that our projects minimize environmental impact while maximizing the beauty and functionality of your waterfront property.
At Orlando Dock Builders, we're not just constructing docks; we're creating experiences and enhancing your connection to the water. With unparalleled expertise, personalized solutions, and a dedication to quality, choosing us means choosing excellence for your waterfront investment.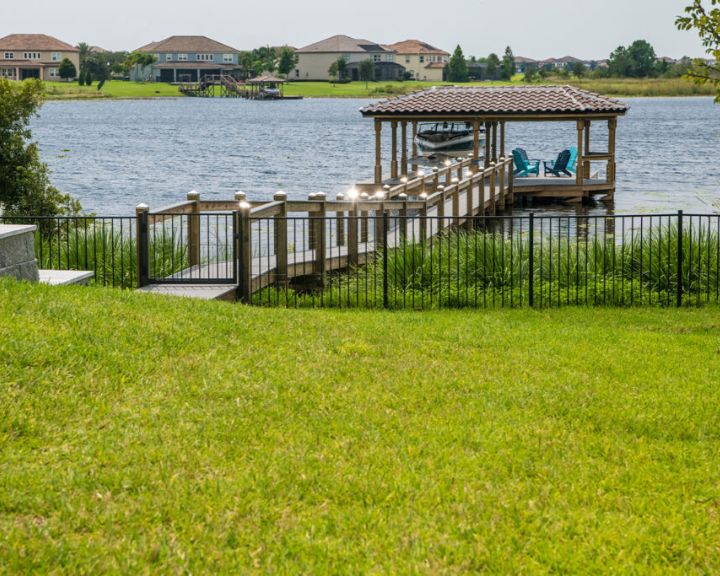 Frequently Asked Questions
Here, we address common questions about boat docks. Whether you're curious about costs, materials, timelines, permits, or maintenance, we've got the answers to help you make informed decisions for your waterfront project.
Contact Us Today For Dock Construction Services
Experience excellence in dock construction with Orlando Dock Builders. Our skilled team, customization options, and commitment to quality set us apart. Contact us today to turn your waterfront vision into reality. Your dream dock is just a call away!